Going out there and discovering new places are truly exciting moments in life. I bet travel is one the things listed in your bucket list and always have been some kind of what you called a "soul searching journey" that plays a huge part on your personal growth.
Yes. I agree.
Personal growth must not be left as a "last option" , because without growing it'll be hard to get by in our daily lives. Always believe that growing as an individual, is relatively important in spite of being busy with tight schedules, struggling with daily routines, or taking care of the family.
I guess, that's why you're reading this, because you are looking for fruitful ideas where to create your next memorable travel adventure.
The main goal of traveling is not just to see beautiful places but also to discover the growing beauty inside of you. – The Tale Of Real Dreams

Tweet
Go Tweet, if you agree on this!
Whether you are travelling alone, or with your friends and family, it can become a bit stressful, and even so planning the whole trip can add more thrill in it.
Don't worry, I've listed down some ideas based on my personal views and experience, so it'll be easier for you to sort things out and plan a fun travel experience.
Just keep scrolling until the end of this page.
How to BOOK YOUR TICKETS In EXPO 2020
We If you are residing in the UAE, the Expo Global Pavilions are popular, since the expected opening last 2020. You might be one of those residents or tourists who are looking forward to experience the near beautiful future that Dubai aims to serve on the table.
Expo 2020 is supposed to open last 2020 but due to the impact of COVID-19, the mega event has a series of delays on its introduction to public. In that case, the safety of everyone has been prioritized by the government due to economic and health crisis.
Read more: UAE travel advisory during COVID 19
Last January 21st, 2021, Dubai opened one pavilion to the public and let limited people to be the first to experience the thematic expo Terra Sustainability Pavilion.
The ticket is 25 AED or approximately $7 only, with it's affordable price you'll learn so much when you savor and internalize the meaning behind these beautiful solar panels that accessorize the whole area. You'll get to witness the importance of sustaining natural resources of earth to maintain its beauty.
Get ready to be amazed with the ambiance and be inspired with the great minds behind these distinctive architectural innovation. And of course, the futuristic park is perfect for so many family fun activities too. There is no doubt that you'll get to enjoy your visit.
The mission of producing clean energy through renewable resources, while reducing overall consumption of energy by outperforming construction industry standards in areas such as exterior lighting and building efficiency.

EXPO 2020
2. DUBAI CREEK
Dubai Creek is a salt water creek located in United Arab Emirates that has its own park and activities where you can see beautiful panoramic view or probably meet different people everyday. It is extended to the Ras Al Khor wildlife sanctuary through sea waters of Persian gulf.
The creek is along the area of Deira and Bur Dubai which serves as the mainstream border of Old Dubai and New Dubai where tons of hotels and local shops located around the vicinity. Visit the park for free and you will learn a lot about the culture of UAE.
What will amaze you more, is the view that embodies the representation of modern and traditional culture. For people who are living in the area, this is the best place to unwind, go morning exercise or enjoy walking with the beautiful sunset.
I am sure you don't want to miss the opportunity of visiting Dubai Creek, whether you are a tourist or a resident of UAE, you can learn so much during your time spent in here. You're gonna love not just the place or the culture itself, but including the people (expats or locals), you will meet around the neighborhood.
The creek has remained an important component in establishing the country's economy since early 20's. Being the only port or harbour in the city, transporting of goods and fishing has been the main industrial activity.
To fully enjoy your visit to Dubai Creek, you may rent a boat for an hour minimum or join other tourists on a ship cruise. They offer a lot of packages inclusive of dinner, snacks or other activities during the trip. You may join on the spot when you get there or better, you may find deals and book the ticket online so you won't have to worry about losing your ride when you get there.
You may also enjoy the Abras. Abras are boats but unlike the typical boat, these are fully open from all the edges. These are the main transportation in the area for easy access across the creek. I remember, my first time to set foot on one of these rides, the thought of falling into the water scares me, but as I glimpse from where I am sitting that time, the fear turned into excitement and I felt so amazed with the view ahead of me.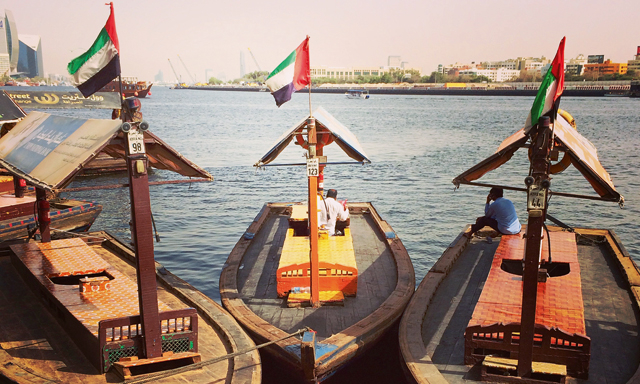 Ride one of these Abras to access Old Dubai from Deira it'll only take a few minutes to explore more shops and destination across the district of Dubai creek.
BOOK YOUR OLD DUBAI – DUBAI CREEK TOUR
You can find nearby local shops of different goods across the Dubai Creek. The old Dubai have so much to offer, they sell a lot of handmade products from local manufacturers you can buy as souvenirs or experience the local coffee and tea shops that offer affordable Karak tea chai, Turkish coffee for as low as $3 per cup and more.
Carlton Dubai Creek Tower
Recommended Nearby Dubai Creek Destination – Dubai Creek Harbour By Meraas
If you are looking for a place to stay a long period of time in UAE, nearby Dubai Creek Harbour is one of the best places to stay. Dubai Creek Harbour By Meraas offers intricate craftsmanship and remarkable engineered home in the community that will settle your taste of luxury.
3. Dubai Design District, D3
Dubai Design District known as D3, is a home for creative professionals working in Dubai UAE. This place showcases creative and innovative works of the world's best architects, artists, fashion designers and more. D3 is a community of create minds working together, to live with their passion.
I've always wanted to write, and growing up, I lived with the dream inside of me. Just like others, I've work hard to pursue what I want and now I am writing for a living. When I first came to Dubai, I started to work as a content writer, who must be knowledgeable of all marketing tools and strategies to create contents that boost the interest of people. In short, digital marketer all in one. It was difficult, but I knew that time, I need to double my effort to learn more and expand my expertise.

For the past 3 years, D3 has became my secondary home. Working in one of the company residing in the area has been a valuable experience. Being able to work in this kind of community, urged me to learn more. The place became my stepping stone into what I do right now out of passion, which is digital design and photography, being able to be here awakened my creativity into doing something new, something I never knew I needed that made me discover more of what I am capable of.

Marie Garcia
There are tons of Dubai fashion and design events happen in here every year and there are many unique restaurants and shops you can find in every corner too. This place is a representation of luxury design living and innovative lifestyle, but there are so much more you can learn from this place that only you can discover and see for yourself.
I'VE SORTED OUT FOR YOU THE BEST SITES THAT OFFER TRAVEL DEALS IN MIDDLE EAST COUNTRIES SO YOU CAN SAVE MONEY WHEN YOU BOOK ONLINE.
I hope you enjoyed reading this. You can share your thoughts or comment down insights below.
Hit like and follow my future blogs to keep you posted. 😍😍